Our first brewery in the Czech Republik, Chodovar Brewery at Chodova Plana, was founded in 1573. The brewery and its malting factory were rebuilt around 1860 after a fire had destroyed the buildings.

During the socialistic era the brewery was part of the Pilsen Brewery Group. In order to avoid competition, the managers at Pilsen decided to close all breweries except their plants at Pilsen.

Mr Plevka, his father and his brother, who were in leading positions in the brewery at that time, believed in the future of Codovar Brewery and bought the company in 1992. Nowadays, as the Pilsen Breweries and the Prague Breweries, too, are owned by foreign companies, beer lovers in the Czech Republik favour the smaller, family-owned breweries like Chodovar!

The floor malting factory is still in use to produce the malt for the brewery. Only local barley is used. Mr Plevka gave us a tour through the malting factory and the brewery. He invited us for a beer to the recently opened brewery restaurant which is located in former lagering cellars, cut out of granite rocks in the 16th century.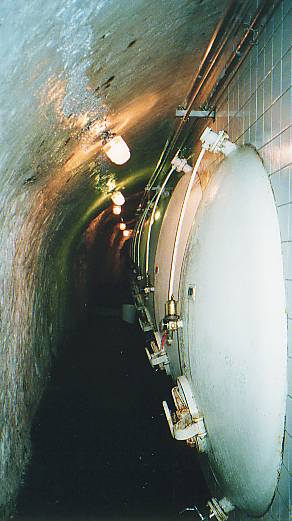 The wort is fermented in open tuns. After eight days the beer is transfered into the lagering cellars, cut out of granite rocks.

Parts of the cellars, where concrete tanks were built in (the concrete was covered with a painting to avoid contact with the beer), were renovated and are now used as a restaurant. Two concrete tanks were saved and serve as a brewery museum.